Insights From The Blog
All The Ways That VR is Shaping Sports
Virtual Reality (VR) promises many things. It gives us the ability to attend virtual meetings and to carry out distance learning. It lets us play immersive games and have virtual experiences, and gives us the opportunity to meet up with friends on social platforms, whereas we can't in real life. But one of the most exciting aspects of VR is the potential for enjoying sport, either as a participant or a spectator.
Participating in VR sports is a wonderful, immersive thing that can really lift the spirits. Generally based on sports and games that either require local movement – such as dance or keep fit – or the launching/hurling of some ball, arrow, or projectile, VR sports apps are sufficiently smart to be exhausting if used well.
They come in all shapes and sizes, like The Thrill of the Fight, which makes boxing very personal experience, or First Person Tennis that will have you lofting some great aces. They are hard work, but great fun and are a fantastic way to keep fit. Some, like The Climb, may seem easy and lightweight to start with, but it soon starts telling on your arms and shoulders as you try to haul yourself up the side of increasingly difficult mountains.
There are shooting sports, and fishing sports, and dance-based sports, and everything in between. If you want to participate, there is bound to be an app for you, but supposing you don't necessarily want to take part, is there anything in the sports field that can help you get involved without breaking a sweat? Of course, there is.
Back in July of 2017, ESPN streamed the entire X-Games to Gear VR headset owners in VR format. A multi-camera stream was available with 360 degrees of viewing for BMX and Skateboard Vert events, making it an immersive event to be a part of. Since then, other event organisers have seen the potential of doing this kind of interactive viewing, and there are some exciting VR experiences coming up.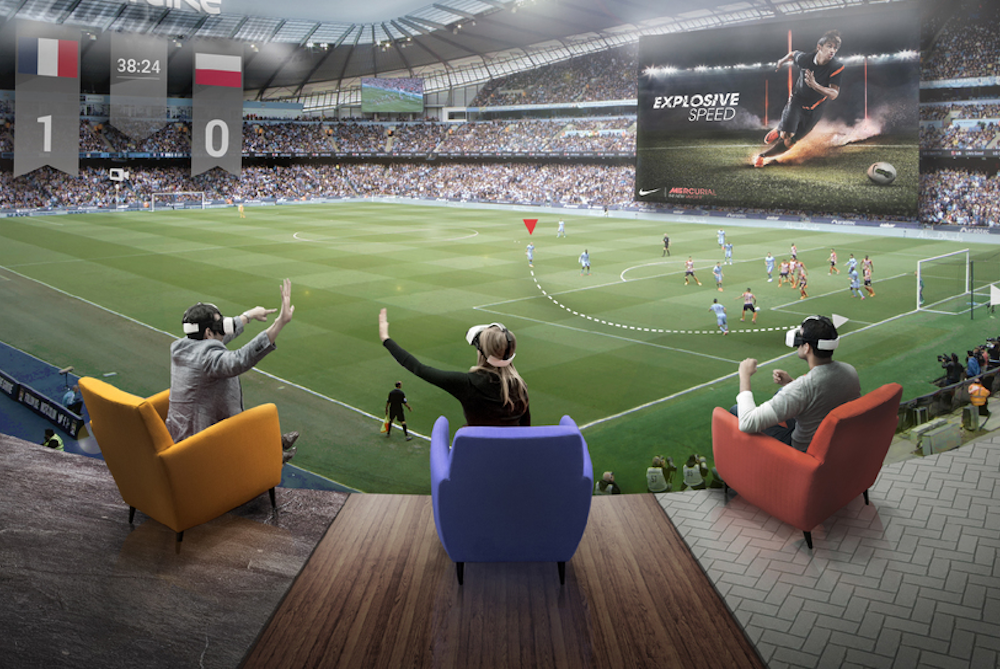 Many teams – particularly those in the NBA and NFL – have embraced VR as a way of notching up the excitement by allowing multi-camera views, that allow the virtual fan to pick different spots in a sports area from where they want to see their team play, and switch around as they please. VR also gives the opportunity to augment live action sports with relevant information. Way back in 2018, Fox Sports were experimenting with including player statistics as an overlay and constantly updating it as the game progressed. This gives fans a much greater feeling of being actually in the sport rather than watching an event on a TV and simultaneously looking up stats on their phone or tablet. Suddenly, it's all in front of your eyes. If you are looking to join the boxing experience, and are all punched out on Thrill of the Fight app, Sky VR are now regularly offering VIP subscribers the ability to virtually experience a whole range of sporting events. Want to be ringside watching Anthony Joshua? Be in the pit lane with a Formula 1 team? Want to take a look at Team Sky's behind-the-scenes preparations at the Tour de France from right in the action? You can do all of those.
But there is more to interactive VR than just watching your favourite team winning from a virtual viewpoint and many teams and organisations are realizing that VR is a great way to help fans and visitors view the grounds and stadiums of their favourite teams. Virtual tours are nothing new, but increased graphics and purposeful interaction can make them a really satisfying experience.
Sporting events are an ideal outlet for VR, and many teams and sporting channels are realizing that it not only gives fans a shot at a ringside seat, but is an ideal way to edge some revenue-boosting advertising in there too.
The fast-paced and interactive nature of sports makes it an absolutely essential technology for sports, and while there is already a great showing, as VR equipment gets better, so will the overall experience.