Insights From The Blog
How XR Improves the Paediatric Care Experience
Ask almost any doctor and they will tell you that paediatrics – the branch of medicine dealing with the health and medical care of infants, children, and adolescents from birth up to the age of 18 – is probably the most soul-destroying and disheartening area of medicine. Illness is something that shouldn't affect the young, but there are so many cases of serious medical issues from accidental damage right up to terminal diagnosis.
Many doctors find paediatrics too distressing to handle for more than a few years, and it has one of the highest turn-overs of staff of all the branches of medicine. Little wonder then that there are huge efforts being made to comfort the ill young, and lessen their pain and anxiety.
While a hospital stay is actually far from being a regular occurrence for children, many have to attend hospitals and medical facilities as a result of accidents or illnesses that are a regular part of childhood. And all children undergo a series of inoculations, which can be fairly traumatic on their own, so any means of soothing a child is welcomed.  
In the past, hospitals and medical centres have focused on diversion techniques using toys, games, and brightly-coloured environments, mostly with mixed results. Children, it seems, are hugely distrusting of any kind of medical procedure and even these tactics are often insufficient. But step aside toys, games and brightly-coloured areas; this increasingly looks like a job for XR devices!
Is it a bird, is it a plane? Who really cares, as long as it can take a child's mind off some impending medical process. And with XR, it can be a bird, or a plane, or even a dinosaur, because that is the nature of the format. Whatever the content used, XR devices can be used as a suitable detour to medical practice.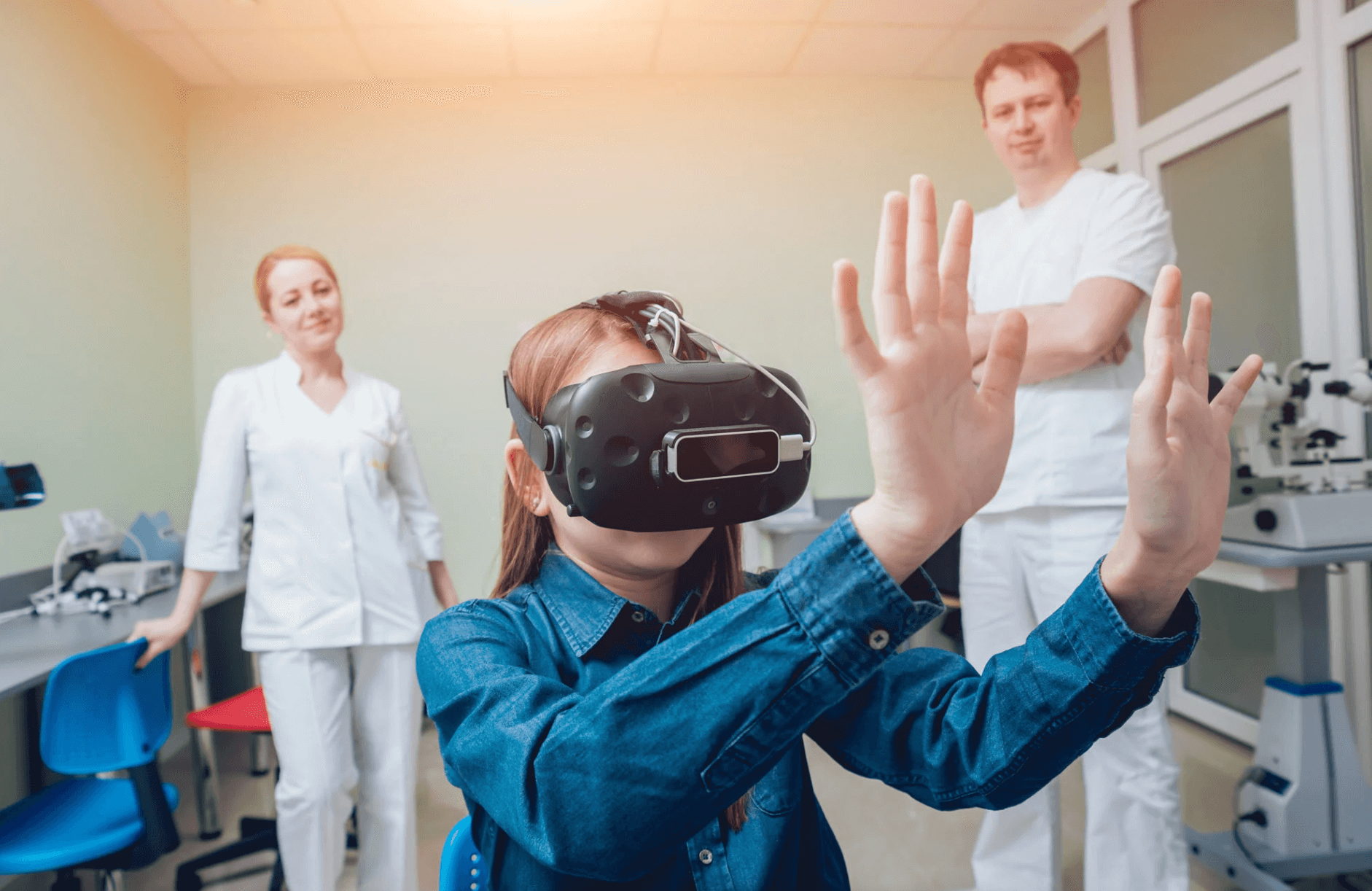 Numerous studies have found that people experience elevated heart rates and many other symptoms of stress when adults are placed in a position of needing a medical procedure. And other studies have found that this tends to be even more profound in children, with other studies identifying the high stress levels that children can feel when confronted with something that they don't understand and looks like it might hurt. This is the underlying fear of the dentist's chair, and it is a real problem for doctors.
But there is growing evidence that immersive realities could be far more effective than any other kind of intervention currently in use. Another report, which was aimed specifically at children in medical situations, found that using a three-dimensional interactive game, delivered via VR, took the patient's mind off the procedure. When the procedures were completed, the children reported that they felt almost no anxiety. 
Having been an exponent of VR as a means of controlling stress and anxiety, Chantel Barney, a clinical research scientist at Gillette Children's Specialty Healthcare in Saint Paul, Minnesota, is convinced that this is the way forward. Barney notes that the children "fall asleep more calmly, they wake up more calmly, they don't even notice what's going on around them." She says that an experience that may have previously caused uncertainty and stress for a child is now a near non-event.
And it doesn't seem to matter what the XR content is, however the more eye-popping the visuals, the less likely it is that the child will have little or no recollection of their procedure, and their stress levels are much lower. VR is a relatively low-cost solution to a problem that has vexed the medical profession for decades. 
If something as simple as XR can be used in this way then we applaud it, and the research that has gone into proving the case is transferable to many other areas where humans may feel anxiety. And with hardware becoming cheaper and of better quality, this could be just the solution we were looking for to cure our concerns.